INSIDE STORY: Dr. Drew on Jeff Conaway's Treatment
BY CYNTHIA WANG
Tuesday May 31, 2011 08:30 AM EDT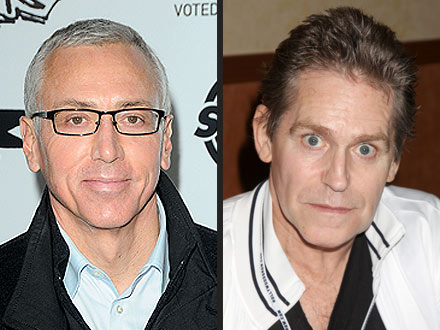 Sara De Boer/Startraks; Kathy Hutchins/Hutchins
died on Friday
at the age of 60, often spoke of his longtime battle with drug and alcohol addiction, he "was a terribly complex case with chronic pain, opiate addiction and severe childhood trauma," says Dr. Drew Pinsky, who had worked with the actor over the past few years.
Conaway's family has waived their HIPPA Privacy Rule to allow Dr. Pinsky to talk about to PEOPLE about Conaway's medical history.
"One of the deeply moving aspects of Jeff's case was the profound trauma he suffered during childhood," says Pinsky. "He described these events on [
Celebrity Rehab
], but viewers somehow did not really understand the profound, painful grinding quality of what he lived through."
When first treating Conaway four years ago, Pinsky helped the actor uncover details about his past.
"Only in retrospect did he become aware that he was exploited as part of a child pornography ring and suffered ritualistic abuse by the older children in his neighborhood," Pinsky says. "As with many severe trauma survivors, chronic pain is a frequent manifestation."
Recently, "in the setting of addiction, chronic pain often amplifies when opiates or opioids are used," Pinsky explains. "That is called hyperalgesia, and it has been well documented and I certainly see it frequently in addicts. It is not as though this always occurs, but for addicts there is a very high likelihood. Certainly this was the case with Jeff."
Successfully Detoxed
During
Celebrity Rehab
, "we did successfully detox him, and he actually began moving about more freely and actually got up in group and tap-danced for us," Pinsky remembers. While Conaway entered treatment saying his pain reached a level of "20," Pinsky adds, "with only removing the opiates, his pain became a tolerable 4 on a scale of 10."
However, "inevitably his pain recurred and his addiction lead him to opiates," Pinsky says. "His pain intensified and he became fixed on the notion that surgery was his only solution, then more surgeries, more opiates and more surgeries."
Pinsky urged Conaway to seek alternatives. "I begged him repeatedly to try something else," he says. "I told him dozens of times that should he continue down that path, I was convinced he would die. In spite of telling him repeatedly his addiction would kill him, I could not pull him from the clutches of the pain meds."
How did Conaway get the pills? "He always found doctors willing to give him the opiates and benzodiazepines," Pinsky says. "He continued the meds and apparently aspirated, developed pneumonia, he was sitting at home, didn't know he was sick and by the time he got to the hospital,
it was too late
."
Thinking about Conaway, Pinsky says, "I have so many memories of Jeff. I keep flashing on riding around with him in a golf cart when we had taken the patients golfing for recreation. He had no significant pain and was regaling me with stories about his career on Broadway. He was a dear man."
Pinsky adds, "I have had the great good fortune to get to know his sisters, ex-wives and friends. His two sisters are filled with
wonderful memories
of how this man lit up their lives."
For a tribute to Jeff Conaway, and more from Dr. Drew, pick up the new issue of PEOPLE, on newsstands Friday
PeopleTVAmerica's Got Talent: Piers Morgan Finds Howie Mandel More Annoying Than Ever
Get PEOPLE Everywhere
Today's Latest Photos05.31.11